Chicken And Leek Soup With Prunes And Barley
This recipe is based on the traditional Scottish soup, Cock-a-leekie. The unusual combination of leeks and prunes is surprisingly delicious.
Serves 6
115g / 4oz / 2/3 cup pearl barley
1 chicken, weighing about 2kg / 4 1/4lb
900g / 2lb leeks
1 fresh bay leaf
a few fresh parsely stalks and thyme sprigs
1 large carrot, thickly sliced
2.4 litres / 4 pints / 10 cups chicken or beef stock
400g / 14oz ready to eat prunes
salt and ground black pepper
chopped fresh parsely, to garnish
Rinse the pearl barley thoroughly in a seive under cold running water, then cook it in a large pan of boiling water for about 10 minutes. Drain the barley, rinse well again and drain thoroughly. Set aside in a cool place.
Cut the breast potions off the chicken and set aside, then place the remaining chicken carcass in the pan. Cut half the leeks into 5cm / 2in lengths and add them to the pan. Tie the herbs together into a bouquet garni and add to the pan with the carrot and the stock.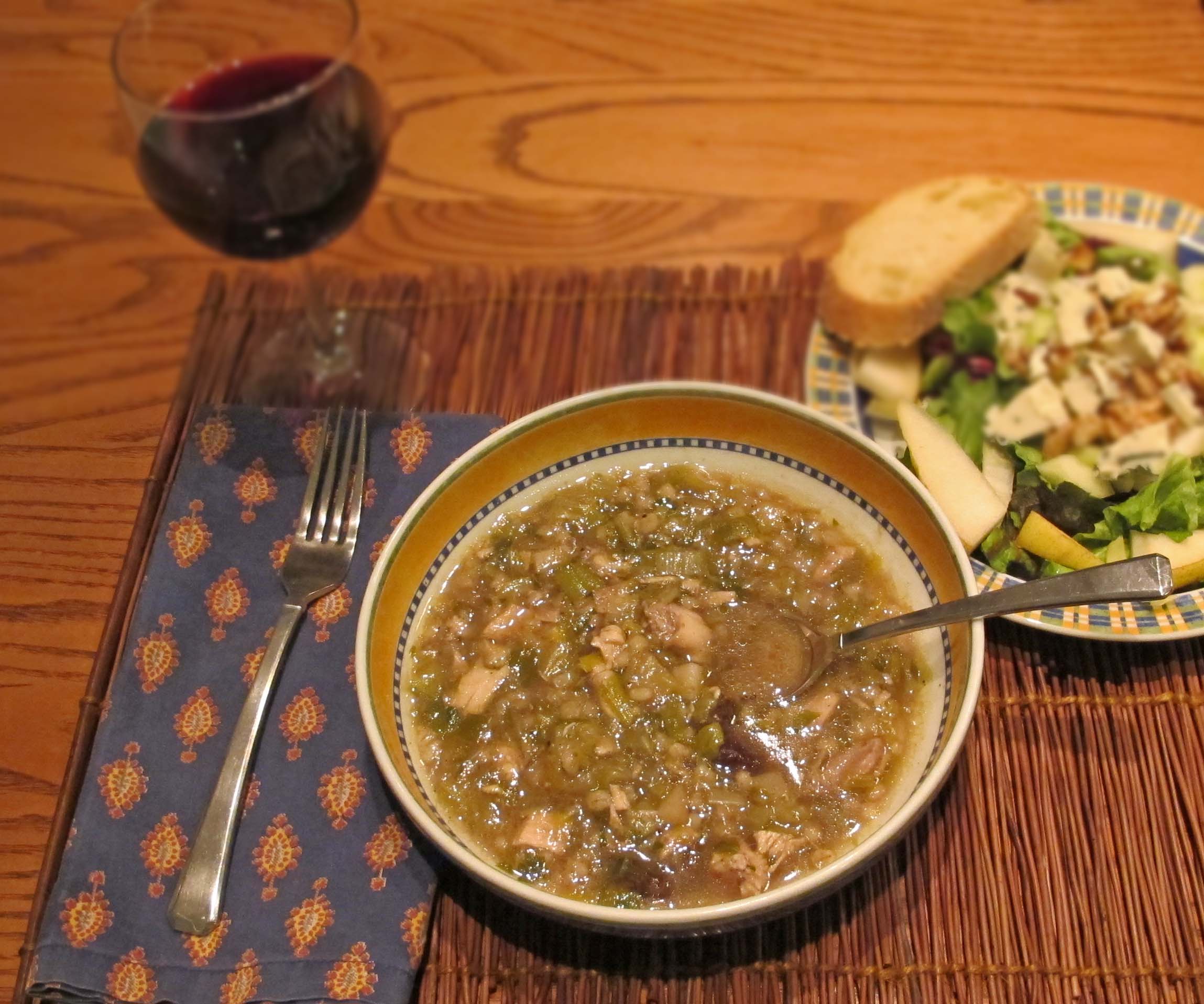 Bring the stock to the boil, then reduce the heat and cover the pan. Simnmer gently for 1 hour. Skim off any scum when the water first starts to boil and occasionally during simmering.
Add the chicken breast portions to the pan and continue to cook for another 30 minutes until they are just cooked. Leave until cool enough to handle, then strain the stock. Reserve the chicken breast portions and the meat from the carcass. Discard all the skin, bones, cooked vegetables and herbs. Skim as much fat as you canfrom the stock, then return it to the pan.
Add the pearl barley to the stock. Bring to the boil over a medium heat, then lower the heat and cook very gently for 15 – 20 minutes, until the barley is just cooked and tender. Season the soup with 5ml / 1tsp each salt and ground black pepper.
Add the ready to eat prunes to the pan, then thinly slice the remaining leeks and add them to the pan. Bring to the boil, then cover the pan and simmer gently for about 10 minutes, or until the leeks are cooked.
Slice the chicken breast portions and then add them to the soup with the remaining chicken meat from the carcass, sliced or cut into neat pieces. Reheat the soup, if necessary, then ladle it into the warm, deep soup plates and sprinkle with plenty of chopped parsely to serve.
Other Chicken And Leek Soup Recipes
About.com British Food Cock-a-leekie soup
BBC Good Food Chicken Leek and Garlic Soup
chicken and leek soup jamie oliver
scottish chicken and leek soup