Pot Roast Loin Of Pork With Apple
Roasted pork loin with crisp crackling and a lightly spiced apple and raisin stuffing makes a wonderful Sunday lunch main course.
Serves 6-8
1.8kg / 4lb boned loin of pork
300ml / 1/2 pint / 1 1/4 cups dry (hard) cider
150ml / 1/4 pint / 2/3 cup sour cream
7.5ml / 1 1/2 tsp salt
For the stuffing
25g / 1oz / 2tbsp butter
1 small onion, chopped
50g / 2oz / 1 cup fresh white breadcrumbs
2 apples, cored, peeled and chopped
50g / 2oz / scant 1/2 cup raisins
finely grated rind of 1 orange
pinch of ground cloves
salt and ground black pepper
Preheat the oven to 220C / 425F / Gas 7. To make teh stuffing, melt the butter in a frying pan and gently fry the onion for 10 minutes until soft. Stir in the remaining stuffing ingredients.
Put the pork, rind side down on a board. Make a horizontal cut between the meat and the outer layer of fat, cutting to within 2.5cm / 1 in of the edges to make a pocket.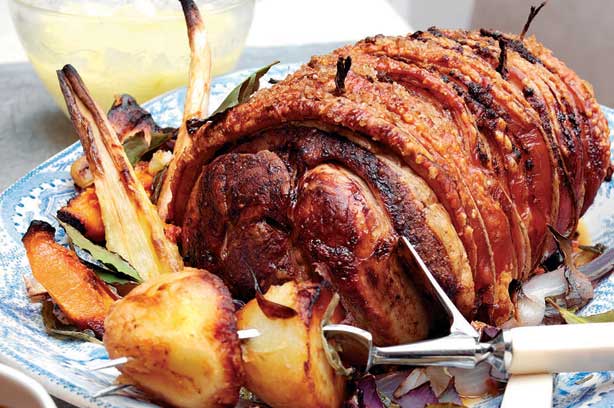 Push the prepared stuffing into the pocket. Roll up the pork lengthwise and tie firmly with string. Score the rind at 2cm / 3/4 in intervals with a sharp knife.
Pour the cider and sour cream into a large casserole. Stir to combine, then add the pork, rind side down. Transfer to the oven and cook, uncovered for 30 minutes.
Turn the joint over, so that the rind is on top. Baste with the juices, then sprinkle the rind with salt. Cook for a further hour, basting after 30 minutes. Reduce the oven temperature to 180C / 350F / Gas 4. Cook for 1 1/2 hours then remove the casserole from the oven and leave the joint to stand for 20 minutes before carving.
Cooks Tip
Do not baste in the final 1 1/2 hours of roasting, so that the crackling becomes crisp.
Other Pot Roast Loin Of Pork Recipes
BBC Good Food Pot Roast Loin Of Pork