Roasting the lamb slowly on a bed of beans results in a dish that combines meltingly tender meat with vegetables all in one pot.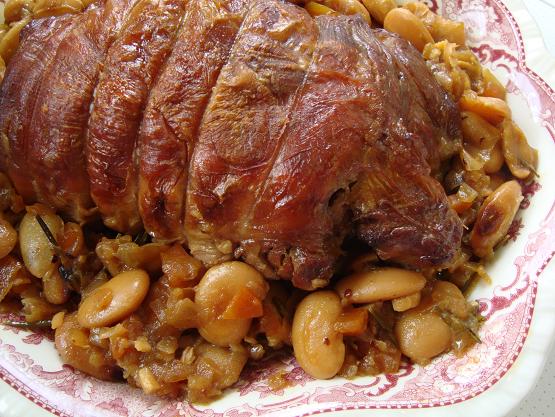 Serves 6
8 – 10 garlic cloves, peeled
1.8 – 2kg / 4 – 41/2 lb leg of lamb
30ml / 2 tbsp olive oil
400g / 14oz spinach leaves
400g / 14oz can flageolet, cannellini or haricot (navy) beans, drained
400g / 14oz can butter (lima) beans, drained
2 large, fresh rosemary sprigs, plus extra to garnish
15 – 30ml / 1/2 tbsp drained, bottled green peppercorns
Preheat the oven to 150C / 300F / Gas 2. Set four garlic cloves aside and slice the rest lengthwise into three or four pieces. Make shallow slits in the skin of the lamb and insert a piece of garlic in each.
Heat the olive oil in a heavy, shallow flameproof casserole or roasting pan that is large enough to hold the leg of lamb. Add the reserved garlic cloves and the fresh spinach leaves to the casserole or pan and cook over a medium heat, stirring occasionally, for 4-5 minutes, or until the spinach is wilted.
Add the beans and tuck the rosemary sprigs and peppercorns among them. Place the lamb on top , then cover the casserole or roasting pan with foil or a lid. Roast the lamb for 3 – 4 hours until it is cooked to your taste. Serve the lamb and beans hot, garnished with the remaining fresh rosemary sprigs.
More Roast Lamb With Beans Recipes
BBC Good Food – Hairy Bikers Slow-roast shoulder of lamb with roasted garlic and flageolet beans
Guardian UK – Roast Lamb With Baked Haricot Beans
UKTV Good Food Channel – Roast lamb with borlotti beans and chilli sauce