Spanish Potato And Garlic Soup
Traditional served is shallow earthenware dishes, this delicious, classic Spanish soup is a great choice for vegetarians.
Serves 6
30ml / 2 tbsp olive oil
1 large onion, finely sliced
4 garlic cloves, crushed
1 large potato, halved and cut into thin slices
5ml / 1 tsp paprika
400g / 14oz can chopped tomatoes, drained
5ml / 1 tsp thyme leaves, plus extra chopped thyme leaves, to garnish
900ml / 1 1/2 pints / 3 3/4 cups vegetable stock
5ml / 1 tsp cornflour (cornstarch)
salt and ground black pepper
Cooks Tip
Paprike is a popular spice in many Spanish dishes. It is made from red peppers that are dried and powdered into a coarse grained spice.
It has a slightly sweet, mild flavour and a rich red colour.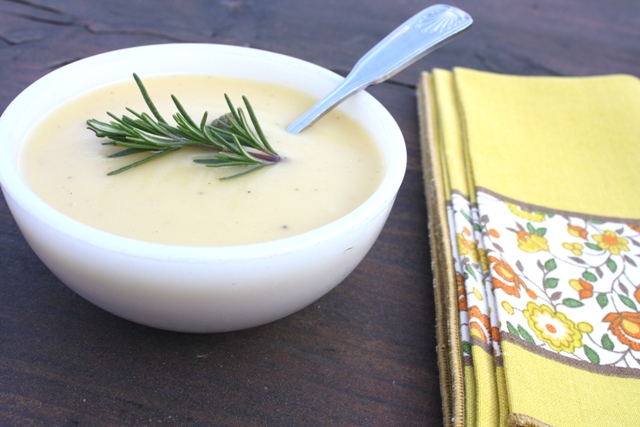 Heat the oil in a large, heavy pan, add the onion, garlic, potato and paprika and cook, stirring occasionally, for about 5 minutes, or until the onions have softened, but not browned.
Add the chopped tomatoes, thyme leaves and vegetable stock to the pan and simmer for 15 to 20 minutes until the potatoes have cooked through.
In a small bowl, mix the cornflour with a little water to form a smooth paste, then stir into the soup. Bring to the boil, stirring, then simmer for about 5 minutes until the soup has thickened.
Using a wooden spoon, break up the potatoes slightly, then season to taste. Serve the soup garnished with the extra chopped thyme leaves.
Other Potato And Soup Recipes
Kraft Sweet Potato And And Garlic Soup Recipe
Daily Mail UK Potato, Rocket and Garlic Soup
Food.com Roasted Sweet Potato And Garlic Soup
garlic soup
spanish garlic soup recipe