Clam, Mushroom And Potato Chowder
The delicate sweet taste of clams and the soft earthiness of wild mushrooms combine with potatoes to to make this a great meal on its own – fit for any occasion.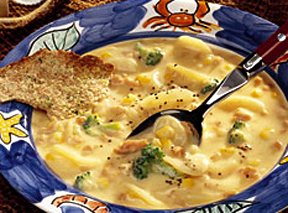 Serves 4
48 clams, scrubbed
50g / 2oz / 1/4 cup unsalted (sweet) butter
1 large onion, chopped
1 celery stick, sliced
1 carrot, sliced
225g / 8oz assorted wild and cultivated mushrooms
225g / 8oz floury potatoes, thickly sliced
1.2 litres / 2 pints / 5 cups boiling light chicken or vegetable stock
1 thyme sprig
4 parsley stalks
salt and ground black pepper
thyme sprigs, to garnish
Place the clams in a large, heavy pan, discarding any that are open. Add 1 cm / 1/2 in of water to the pan, then cover and bring to the boil. Cook over a medium heat for 6-8 minutes, shaking the pan occasionally, until the clams open (discard any clams that do not open).
Drain the clams over a bowl and remove most of the shells, leaving some in the shells as a garnis. Strain the cooking juices into the bowl, add all the clams, and set aside.
Add the butter, onion, celery and carrot to the pan and cook gently until softened but not coloured. Add the mushrooms and cook for 3-4 minutes until their juices begin to appear. Add the potato slices, the clams and their juices, the stock, thyme and parsley stalks.
Bring to the boil, then reduce the heat, cover and simmer for 25 minutes. Season to taste, ladle into soup bowls, and garnish with thyme sprigs.
Other Clam, Mushroom And Potato Chowder Recipes
Cooks.com Mushroom Clam Chowder
Taste Of Home Mushroom And Potato Chowder
NY Times Clam and Mushroom Chowder
mushroom clam chowder
clam and mushroom chowder